LP Gas Services
Family-owned and operated, Kerschner's has been providing quality services to Central Wisconsin since 1953. A leader in the Propane Service Industry Kerschner's Gas Service, Inc. has been built upon a tradition of "Better Service, More Value". We offer Automatic fuel delivery, convenient payment options and a commitment to personal service.
Kerschner's Gas Service prides itself on being a full-service propane supplier. We provide you the convenience of working with an industry leader that offers 24/7 emergency service and highly-trained technicians ready to provide you service from tank to burner tip.
We work hard not only to ensure affordability, but quality and complete customer satisfaction as well. As a Kerschner's propane customer you qualify to receive discounted rates on your heating, cooling and plumbing repairs and maintenance. So whether you need a propane tank for your home or a furnace repair, our experienced staff will provide high-quality service you can depend on.
How Your Propane System Works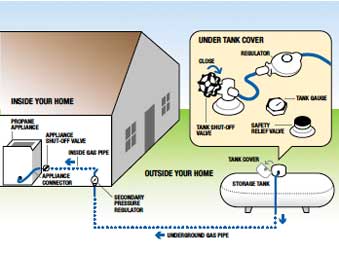 Propane is a safe, economical fuel. But, like many other forms of energy can be hazardous if not handled properly. Propane is delivered and stored in a liquid form. Propane liquid will expand (become a gas) with temperature increases. As a result tanks are never completely filled with propane liquid, usually 80 to 85 percent of their capacity.
Propane in your gas tank and system is stored under pressure. In most systems it is vaporized to gas before it leaves the tank and is dispensed through a first stage regulator (sometimes know as a high pressure regulator) that reduces the pressure from the tank before it goes into the gas line.
The gas vapor is then delivered through the gas line that runs between the tank and the building to which service is needed. At the building a second stage regulator (sometimes know as a low pressure regulator) further decreases pressure to a usable supply level for the demand of the appliances.
PROPANE Q & A
Q: What is Propane?
A: Also called LPG-liquefied petroleum gas or LP gas, propane is a trusted and reliable energy source used by millions of Americans each day. Propane is created from natural components, natural gas and petroleum. It has long been recognized as an environmentally friendly "green" energy and readily available. Nearly 90 percent of the propane used in the United States is produced here.
Q: What is involved installing a new propane system?
A: Once you've contacted Kerschner's we'll determine the proper size tank for your
application and set up a delivery date. On that day the service technician will arrive with tank and evaluate the site for the installation. In most cases using our boom truck we will lift and place the tank on concrete blocks or the hole (in the case of an underground tank). After the tank has been set and leveled, the technician will trench the gas line in (usually 12" to 18" deep) hooking each end to the gas plumbing stub out and the propane tank. We'll then cover the trench with backfill and test the system for leaks. Following the test and safety inspection, our technician will light any pilots and check appliances for proper operation.
Q: Where can I put the tank?
A: Propane tanks located at customer sites must take into consideration many factors. Some of these factors include well and septic location, distance from buildings and the property line. As a rule of thumb you must allow at least 10 feet from any building, property line, and source of ignition or combustible materials. For delivery purposes the tank cannot be located more than 90 feet from the driveway. Some variance to these restrictions may apply depending on the size of the tank. These distance requirements are designed for you and your family's safety.
Q: Why should I get my propane tank from Kerschner's?
A: Service and value. We strongly believe that to provide service excellence and the best value is accomplished by us maintaining your propane system. Therefore, at Kerschner's we provide you the propane tank. Our highly-trained technicians then complete a safety inspection and pressure test ensuring your system is operating properly.
Q: What is involved in replacing an existing tank?
A: In many cases when a system is already in place it is only necessary to disconnect the existing propane tank and place our tank in the same location. Once the tanks are exchanged we'll test for leaks, light any pilots and check appliances for proper operation.
Q: How do I know how much gas I have in my tank?
A: A gauge will usually be located under the dome on the top of your tank. Lift the dome and find the dial with numbers from 5 to 95. Those numbers indicate the percentage of propane in your tank. For example a 500 gallon tank that reads 40% has approximately 200 gallons of propane in it. All gauge readings are approximate and there for customer convenience.